mSpy is a brand of mobile and computer monitoring software for iOS, Android and Windows. This software monitors and  logs user activity on  the client device.
Advanced Features of mSpy
mSpy covers all of the expected monitoring features such  as text logs, call logs, email, tracking and browser history etc. it also include some advanced features to set it apart. It includes the following :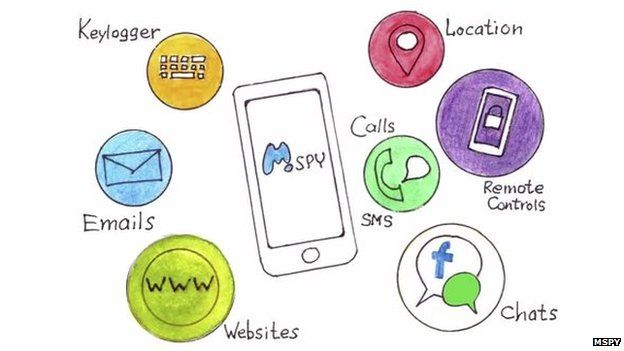 Monitor Messenger Services
The monitor messenger services will monitor activity on Whatsapp, Viber, Skype, Snapchat, iMessage, Telegram and Facebook Messenger. These features are available for rooted android devices and the iPhone/iPad. Now they have added Tinder monitoring to the list.
Call Blocking
In this we can define phone numbers and block incoming calls.
Website Blocking
It will block access to the pre-defined websites.
App Blocking
Here you can view all installed apps on the target phone and can choose which ones to block.
Key logger
This is unique to mSpy. The Keylogger feature can report all things typed on the target cell phone such as messages, passwords, login details, emails etc.
Management Features
Management features  include some useful ways to manage the reporting set up. You can set reporting to the control panel by Wi-Fi only, by any connection. This will avoid data sending  using the target cell phones data plan. You can also set reporting intervals and GPS intervals.
Security Features
This includes phone lock, wipe phone data, change sim notification, start, pause or delete the app all from the online control panel.
How To Install  mSpy ?
Most spy phone software applications have a similar installation process. There are only a few minor differences between them. The general process for installation is:
Pick the right package
Pay for it
Email with directions and link for download
Create an account – login name and password
Install and download the software
Initiate the software by entering a code found in the email
Restart the phone
Adjust settings accordingly
It will take maximum of 10 to 15 minutes to completely install this cell phone spying program to your target phone.
Step 1: The installation process actually varies from one phone to another and it usually depends on the operating system of your phone. The user is therefore instructed to access his online account to check the installation procedure for the type of target phone that they wish to monitor.
Step 2: The device that you want to monitor must be compatible with the mSpy software. The target phone must also have at least 10 min of Internet access in a day to work. Internet access is needed so that the information gathered from the target phone may be sent to your online account. The target phone must also have Internet access so that you can download the mSpy application to the phone.
Step 3: Once you have verified that the target phone has Internet access, open your mail from the device and follow the prompts to install mSpy. It will take less than 5 minutes and once you are through you can begin monitoring from your end.
Note:

Match up the package to ensure compatibility with both phone and operating system
 Read through the directions beforehand
Create notes with details and keep them by your side during installation
Allow plenty of time
Have your PC or MacBook available. You may need to make quick changes.